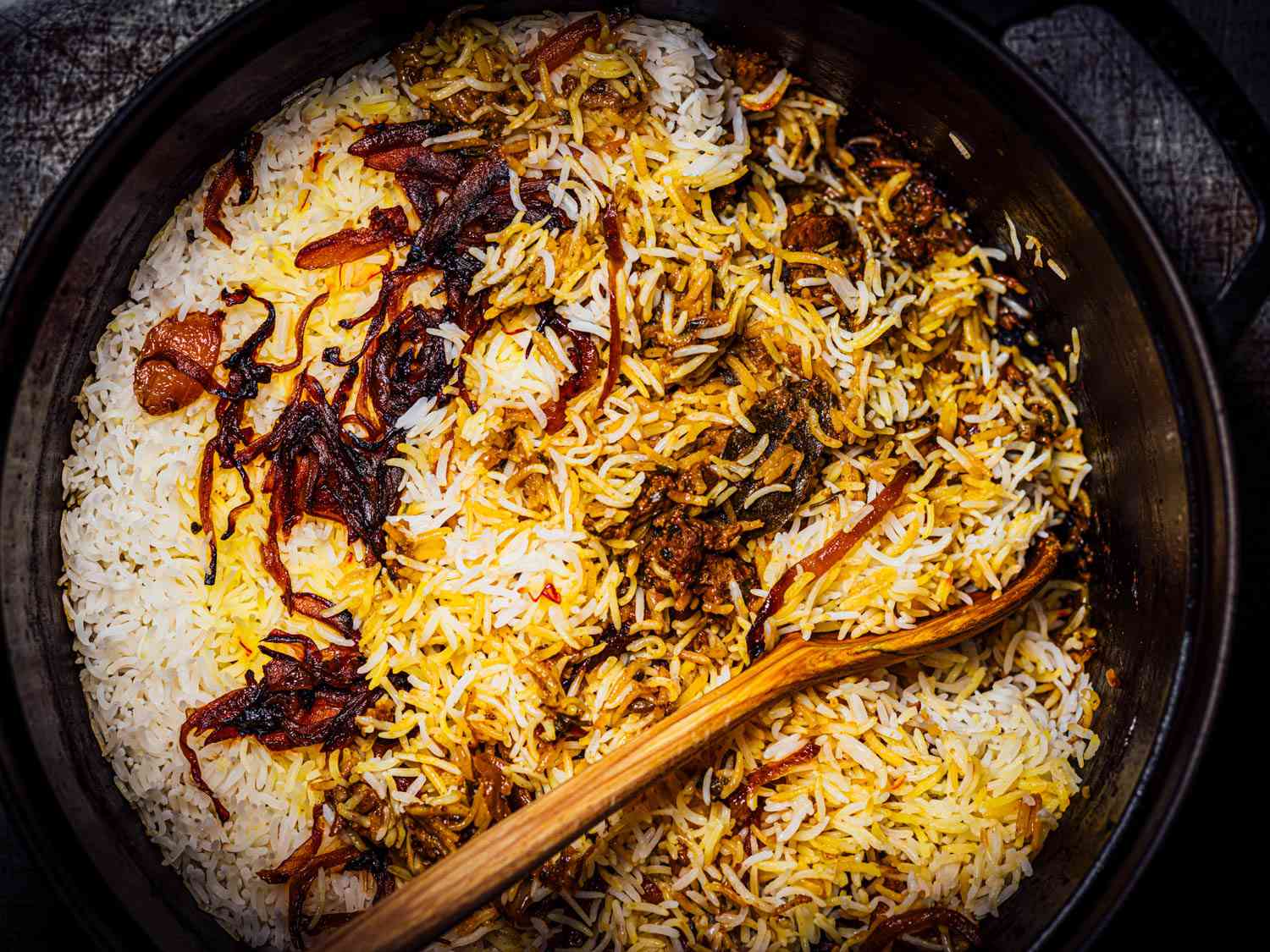 BOMBAY BIRYANI
BIRYANI! when you hear the word biryani it makes you feel happy. we have an easy recipe to make your biryani easy peasy with our Balsara's biryani mix, it is full of flavors and mouthwatering.
Balsara's Biryani Mix helps you in preparing traditional Biryani at home with an authentic taste and aroma for an ultimate food experience.
Cook with us.
COOKING
RECIPE
AS PER 50 GRAM
INGREDIENT REQUIRED
MEAT ON BONES
1 kg / 2.2 lbs
small portions
RICE, BASMATI
3 ½ / 750g cups
washed & soaked
ONIONS
3 medium
250g, finely sliced
TOMATOES
3 medium
250g, diced
CILANTRO/FRESH CORIANDER
½ cup
chopped
MINT LEAVES
½ cup
chopped
YOGURT, PLAIN
1 cup/ 200g
whipped
COOKING OIL
1 cup / 175 ml
BALSARA'S BIRYANI MIX
1 packet
mix in ½ cup water
STEPS OF COOKING
Heat oil and fry onions until golden. Add meat, Balsara's Biryani Mix and stir fry for 5 minutes. Add yogurt and water (Beef/Lamb 4 cups, Chicken 2 cups). Cover and cook on low heat until meat is tender.
Add tomatoes and stir fry on high heat until oil begins to separate from the gravy. Then keep it aside.
Separately: In 15 cups / 3 liters of boiling water, stir in 3 tablespoons of Balsara's Salt and soaked rice. Boil rice until ¾ cooked. Remove and drain thoroughly.
Spread half rice in a pot and pour meat curry. Top with remaining rice. (Sprinkle a pinch of yellow food color if desired). Spread fresh coriander and mint leaves on the rice. Cover and cook on low heat until rice is tender (5-10 minutes).
Mix before serving.